Exploring Alternate Tunings on Acoustic Guitar
Part 2 - Exploring the unknown (advantages and other aspects of alternate tunings) 
When using fairly exotic tunings you are going to be abandoning all the accustomed chord shapes and scales you are used to. While you will obviously still be able to play them on the same frets it may not sound very good. (e.g. the 'A' minor chord shape will sound very dissonant when played in Open C). 
Therefore, you now have to use your ear to create new chord shapes. You have to forget about the "normal" positions you are used to and just see if the notes sound good together. If they do, make a new chord shape. Use your ear to make things that sound good! 
Since the tone of the song can generally be set by the tuning you're using, you can be inspired by a particular tuning to create a new piece of music. Exploring alternate tunings can enhance your understanding of the guitar and expose you to new styles of music and can help get you out of a creative rut (e.g. writer's block). 
Also you may figure out, or even invent new techniques used in a particular tuning, or learn a new technique from a song that requires a certain technique to play it, which may not often be used in Standard Tuning. You can make up your own custom tunings if you are feeling a little more ambitious. There are a few artists out there who love doing this. 
Being able to play lower bass notes and retain the higher notes you would usually have is a huge advantage of alternate tunings. Other benefits include being able to play certain pieces of music with relative ease, as opposed to trying to play the same piece in Standard tuning, which could sometimes be very difficult with huge stretches involved or just impossible due the lowest bass note being 'E'. You could not get any lower unless you tune down the low 'E' string to Drop 'D', or 'C', or even 'A'. There are many variations you could choose, that's why I will give you a list of alternate tunings to try out at end of this article.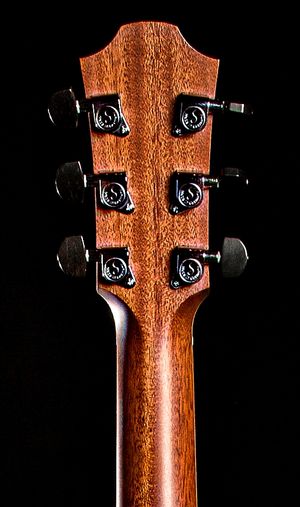 I briefly mentioned in Part 1 that it is helpful to have multiple guitars that more or less stay in a certain tuning, or within a range of tunings that are similar. When playing live I personally use multiple guitars because some of the tunings vary so much that tuning the guitar between songs would take too long, or just take too long for the guitar & strings to adjust to the new tuning, which can take a few minutes depending on the guitar and how solid it is built, and the material that the string is made of, for example, nylon strings on classical guitars seem to take a bit longer to set once they are in the new tuning, as opposed to metal strings. 
When playing alternate tunings in a live setting, try to arrange your set-list in an order where the tunings go from high tension to low tension (e.g. start out the set in Standard Tuning, next song tune to Drop D, then next song tune to DADGAd, etc.)to minimize chances of string breakage in the middle of a show. I re-tune between songs on the same guitar, when playing live, only when it is a tuning change that can be achieved within seconds. Other than that, I grab one of three other guitars behind me which, depending on the type of show, can look like cool stage props when not in use. 
The possibilities that open up when you are exploring alternate tunings are endless, which can be a little daunting at first, almost like learning the guitar all over again. Don't let this put you off; it is extremely worth it to try them out. Some tunings you might take to very quickly and others may be a lot harder to get used to. I have seen guitar players that almost completely abandon standard tuning and make their home in a new tuning where they feel much more comfortable ripping around the fretboard. This, in turn, can also considerably change their style, technique, and overall sound. 
I regularly play in at least nine different tunings and have become comfortable in all of them. Usually I will learn a song I like, which just happens to be in a different tuning, I will learn how to easily and quickly re-tune to get to the required tuning, learn the piece of music, and then create two or three of my own pieces within the given tuning. This is a way to very quickly learn your way around a new tuning. 
While I am not going to mention any other artists names in this article, I must say, I have many inspirations in guitar, which I'm sure you do also, so to give you this list of tunings, you must either research songs that are played in any of the upcoming tunings, or just create your own compositions right from the start. Alternate tunings have changed my style, technique, outlook on music, opened me to new ways of playing and listening, and my overall approach to guitar in general, and I hope they do the same for you. 
Various Alternate Tunings 
- D, A, D, G, B, e (Drop D Tuning) -- (String Gauge; Medium or Light) 
- C, G, C, G, C, e (Open C Tuning) -- (String Gauge; Heavy or Medium) 
- C, G, C, F, A, d (Drop C Tuning) -- (String Gauge; Heavy or Medium) 
- D, A, E, G#, A, e -- (String Gauge; Light or Medium) 
- E, B, C#, G#, B, d# -- (String Gauge; Light or Medium) 
- E, G, D, F#, B, f# -- (String Gauge; Medium or Light) 
- E, A, C, G, A, e -- (String Gauge; Medium) 
- D, A, D, G, A, d (Celtic Folk Tuning) -- (String Gauge; Medium) 
- E, A, D, G, C, f (All Fourths Tuning) -- (String Gauge; Light or Medium) 
Written by Adam Meachem ©-2017
www.AdamMeachem.com 
©-2017