Exploring Alternate Tunings on Acoustic Guitar 
by Adam Meachem ©-2017
So you've come to the point in your guitar playing where alternate tunings are just waiting to open up a universe of possibilities for you. There are things you should know before you start cranking tuning pegs all over the place, and you are in the right place to find out information on the next steps, and some tips to go along with them. 
In this two part article I will present things to consider when you want to venture out into the exciting land of alternate tunings. We will go over concepts that beginners should definitely know, and also get into details advanced players can put to use as well. 
For me, alternate tunings completely changed my approach to guitar playing. They also made me buy several other guitars to be strictly set up and played only in their given tuning. This is for many reasons, but the 2 main ones are, reason #1, when you are in a really low tuning, if your guitar is not set up for this particular tuning it may or may not hold the tuning very well (e.g. Drop A might be too low a tuning for your thin strings to handle and hold the notes properly, thicker strings are generally better for low tunings). Reason #2, when playing live, switching guitars can be a lot faster than re-tuning your whole guitar to a different alternate tuning (e.g. Standard Tuning to Open C can take a few minutes to re-tune). There is a string gauge chart at the end of part 2 of this article that will help beginners choose the optimal gauge of strings for the tuning they wish to use. 
It is good to have a (clip-on) chromatic tuner to make sure you are tuning each string to the right notes especially when first starting out. It's good to start out using electronic tuners to get to know your way around a specific tuning, and it is really good to eventually break away from the tuner and be able to tune by ear. Another quick note: When using clip-on tuners, if they are not responding accurately or quickly to the open string, try using the 12th fret harmonics on each string and the tuner will usually respond very quickly. 
Tuning by ear is a superior skill because you will be able to tune faster, and having acute pitch perception is a very valuable skill to have as a musician. Also there may not always be a tuner around in every situation, so being able to tune by ear just may save you some trouble. Remember, it is a learned skill that can be honed and sharpened to a very fine degree with practice. (Some people have a harder time than others with this, but you will get it with time and deliberate practice.) 
Part 1 - Keeping the piece. (pitfalls and maintenance issues) 
There are two definitions we will go over right now that will make it easier to understand... 
Definition #1: The tension spectrum - the degree of looseness and tightness each string is able to physically handle before becoming too loose to hold a note, or too tight that the string will snap, each string will have a different threshold. 
There are apps available for smartphones (such as "g-strings")that will show you the Hertz while you are tuning, here is a chart for the respective strings and frequencies from high to low: 
e - 1st - 329.63 Hz 
B - 2nd - 246.94 Hz 
G - 3rd - 196.00 Hz 
D - 4th - 146.83 Hz 
A - 5th - 110 Hz 
E - 6th - 82.41 Hz 
Definition #2: Target note - the desired note that the player is ultimately intending to tune a particular string to. 
Make sure you stay within the tension spectrum of the string to avoid breakage, for example, tuning the 'B' string up to 'C' you don't want to go past the first 'C' to an octave up from that, because you will likely break the string trying to tighten it that much, and also keep in mind, when tuning from a 'B' to an 'A' you would be tuning down, rarely would you tune up so high that the string would be likely to break. So learning the tuning and knowing where you are in the spectrum of notes is key. Also when you eventually tune back to Standard Tuning you will be able to do it faster when you know which strings tighten up and which strings loosen down. I usually tune from the low(thick) strings to the higher (thin) strings. 
Example: 
Going from Open C to Standard Tuning 
C -> tightens up to ->E 
G -> tightens up to ->A 
C -> tightens up to ->D 
G -> stays at --------->G 
C -> loosens down to ->B 
e -> stays at ---------->e 
Conversely you don't want to tune a string too low when trying to reach a certain note; this can be a problem if you don't realize where you are in the range of tuning (also known as the 'register'). 
When you are tuning the strings up from such low tunings it should be done in stages as not to put each string directly up to its intended tuning at a fast rate, doing so quickly will increase chances of string breakage, especially if you are in a cold environment. Instead tune each string from low to high in segments of half or full steps and then fine-tune (by ear or with electronic tuner) as each string gets closer to the target note. While this is more of a rule of thumb, some people, including myself, often times will crank the tuning peg right up to the desired note with no string breakage occurring, but it has seldomly happened where I did end up breaking the string due to quickly tuning up. It is something you must get comfortable with.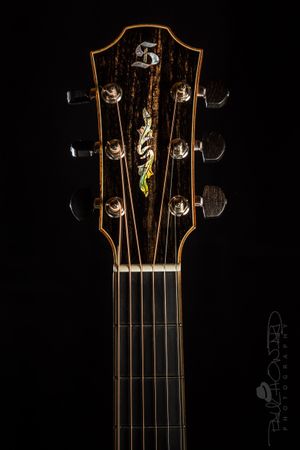 The more you tune the string, the more it is being weakened at the machine-head. Kind of like bending a coat hanger back and forth, it will eventually get weak and break. While this isn't hugely common, it is something to consider. I personally haven't had too much of a problem with this. If you make a quick mental note of where the tuners are physically sitting when in tune, you can use your eyes, along with your ears, to make it easier and quicker to tune your guitar. Each tuning will have a different position and when you put new strings on your guitar the positions of the tuners will likely change once the new strings have set. 
When tuning the string down, there will naturally be a bit of slack left between the nut and the tuning peg. To neutralize the slack you can either give the string a tug (pull the string away from the fretboard above the 12th fret), or tune a bit lower than your target note and then as you tune back up there will be no slack. If you do not do this, as you play, the guitar will gradually go slightly flat. To counter this problem some guitarists lubricate the grooves on the nut with soft graphite from a pencil, a little goes a long way. 
While tuning the guitar, make sure you are not accidentally putting pressure on the neck, it is quite easy to push or pull the neck slightly when reaching over to twist the tuners. 
When using a capo, you may have to slightly re-tune the guitar, depending on your string gauge and pressure setting of the capo, after the capo is applied, make small adjustments to fine tune it again, depending on the guitar and capo combination you may or may not have to do this, but be aware so you can correct any inaccuracy in tuning. Depending on the string gauge you may want to place the capo in the middle between the frets, or right up close to the metal of the higher fret, you may get slightly different results, sometimes I put it on an angle giving the thicker strings some room and then the capo angles closer to the higher fret on the higher strings, so see what works best for you.