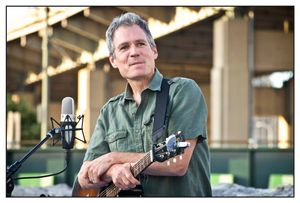 I had the pleasure of interviewing folk-artist, and music business trailblazer Dave Ruch (pronounced "Ruck"). He has some great insights about building your career on your own terms. Not what most people think of as "making it" in the music business, but I strongly believe he has tapped into an area that most musicians wouldn't ever think about!
How did you get started in your career?
I got started like a lot of kids in the 1980's did – trying to play Led Zeppelin, Jimi Hendrix and that kind of stuff on the guitar. I used to plug my electric guitar into my tape deck (on pause/record) so I could listen to it through my stereo speakers! 
Music has really been the main interest of my life, and so in a sense I guess I did always know it was what I wanted to do. BUT, it took me a long time (age 27) to decide to pursue it full time. 
Did it take a long time to get to the point of feeling successful from when you first decided what you wanted to pursue? 
I think there are little "micro successes" all along the way. For instance, my first year as a full-time musician, I made a whopping $12,000 (after leaving a $30K/year job) but it felt like the best $12,000 I ever made. I never had any ambitions to become "famous" or tour nationally – for me, it's always been about making a living locally or regionally doing something I love, so there have been lots of feelings of success along the way.
How has the industry changed since you got started? 
You know, I've always done my best to sidestep the industry, so I can't really say other than what I hear from other musicians about there being no money in recording/selling music and fewer places to play.  There are lots of opportunities for musicians outside of the music industry itself, and that's where I've found myself. 
What are some of your proudest accomplishments and what are you doing now that is exciting? 
Well, I've been featured on several national PBS documentaries and on CBS Sunday Morning, so it's always a thrill to be considered valuable for those kinds of productions, and I'm also very proud of the fact that I've been able to make a solid middle class living and support a family of four doing this. 
As for exciting stuff happening now, my most recent project is a Netflix-like video streaming service for K-8 schools bundling together interactive cultural arts programs that teachers can pull up and use in their classrooms on demand. That's launching this month after five long months of work on it. 
How would you describe your mindset on an average day (currently and in the past)? 
My mindset has always been that I don't want to fail at this experiment (doing music full time), so every day that I'm not gigging, Monday-Friday, I'm in my office taking care of marketing, PR, booking, and all the other things necessary to put a good independent career together as an artist. I'll spend 8 hours a day on the business end of music if I don't have gigs that day. 
Are there things you intentionally do or think concerning your mindset? 
Not really; it's never been a struggle for me to stay motivated, so I guess I'm lucky in that sense. 
Are there any memorable turning points or connections that really made a difference in your career? 
Yes, my first gig for a young audience of school kids, which I talked about quite a bit here - http://daveruch.com/advice/how-to-get-gigs-in-schools/  That changed to whole trajectory of my life and career. 
Did you set specific goals? 
Situationally, yes. It's not like I have a master plan of "in three years, I want to be here, and five years, here." It's more like there are always long to-do lists on my desk, and I simply prioritize stuff according to a) urgency, and b) income potential. 
Would you suggest anything to help in the area of time management? 
My best suggestion would be to treat it like a full-time job. Those who do that have way better odds of making this work. 
How have you handled relationships (family, friends) while working to be successful in your career? 
Well, family always comes first, and because I travel so much, I do some pretty oddball things like leaving home at 4am to get where I'm going (so I can be home the night before). I've also been known to go work for the day in some fabulous location and not even stop to get a meal or see the sights – just go in, do the gig, and come back home. I decided when my kids were little that I didn't want to be an absentee Dad, so sometimes that makes for some long days and awkward travel schedules, but it's how I've been able to make it work. 
What would you say are some priorities in your life now and in the past? 
Family, health and wellness, quality relationships, and good beer. 
Are there any mistakes you've made that you can share for the sake of helping others? 
Gosh, how much space do we have? For the sake of brevity, I'll go with this one – know and trust yourself and what's going to work/not work for you. I burned out both my right arm (tendinitis) and my singing voice over the years due to overuse in crappy gig situations that seemed fine for everyone else but just didn't work for me. Now that I'm in my fifties, with 25 years of full-time experience behind me, I'm much smarter about designing my work to suit my individual quirks and shortcomings. 
Where do you get the energy to do all that you do? 
I don't know. I honestly don't. I'm the only person I know who doesn't nap and doesn't get tired in the middle of the day. Lucky, I guess. I also try to eat really well and exercise 3-4x/week. That definitely helps. 
What motivates you? 
Fear of failure! Seriously, that's part of it. The rest is that music has always been a strong pull for me, as is giving a great performance that leaves the audience with some kind of reaction. Those things together keep me going. I want to continue to get better at my craft, both musically and in terms of delivering a great product for the venues that hire me to perform.
Thanks Dave! Looking forward to learning more from you!
Go to Dave's website: www.DaveRuch.com where you can find many resources and articles that can help expand your music business.